Good emotional and mental health is important in helping to strengthen your child's capacity for relationships, improve general health and wellbeing, maximise their educational potential, promote social inclusion and expand their opportunities.
Central to positive emotional health is the relationship a child has with you and other family members or carers. It is known that children need healthy, supportive and stimulating environments with a clear focus on, and commitment to helping them develop high self-esteem and good relationships. With such support, they are more likely to become confident, happy and ambitious people.
Talking about feelings is really important for positive mental health and more information can be found here.
Around 1 in 8 children and young people experience behavioural or emotional problems growing up. For some, these will resolve with time, while others will need professional support.
It can be difficult to know if there is something upsetting a child or young person, but there are ways to spot when something's wrong. Look out for:
significant changes in behaviour
ongoing difficulty sleeping
withdrawing from social situations
not wanting to do things they usually like
self-harm or neglecting themselves
Remember, everyone feels low, angry or anxious at times. But when these changes last for a long time or are significantly affecting them, it might be time to get professional help.
You know your child better than anyone so, if you're worried, first think if there has been a significant, lasting change in their behaviour. This could be at home, school or college; with others or on their own; or in relation to specific events or changes in their life.
If you're concerned or unsure, there is lots of support out there, including professional help in the support section of this page.
When people have healthy self-esteem, they tend to feel positive about themselves and about life in general. Self-esteem and confidence often go together as they give the belief that we can cope and makes us better able to deal with life's ups and downs. It helps children and young people feel confident in learning new skills and trying new experiences. If they make mistakes they have the confidence to reflect and try again.
When self-esteem is low, people tend to see themselves and their life in a more negative and critical light. They also feel less able to take on the challenges that life throws at them This can lead to children and young people avoiding learning new skills and can harm mental health and lead to problems later on such as depression and anxiety.
Self-esteem and confidence building start at birth. Every time you praise your child for trying something new or say positive things you like about them you are sending a clear message that they should be proud of themselves too. This helps them understand their strengths and help build confidence and self-esteem.
Life changes and challenges can cause everyone to have wobbles and times where they doubt themselves. Look at the top tips below to help build self-confidence and self-esteem skills
Our brains are wired for connection!
The five to thrive activities describe the way in which human connectedness all through our lives keeps our brains working well. Young humans need connected relationships to build healthy brains, and all humans need connected relationships to maintain healthy brains.
Central to the five to thrive approach is the set of five key activities:
Respond · Engage · Relax · Play · Talk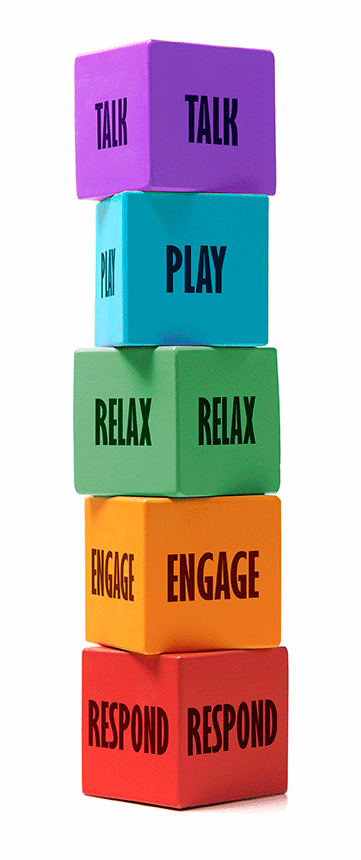 Respond - You notice your child's needs and feelings.

This switches on your brain and body to connect to your child.

Engage - Your child picks up signals from your body when you engage with them

This switches on your child's brain and body to connect to you.

Relax - Settling and calming yourself can help settle and calm your child.

The brain works best when we are calm and alert.

Play - Your face, your movements, and your tone of voice all stimulate your child's brain.

Playfulness promotes healthy development at all levels of the brain.

Talk - Human brains need language in order to work properly.

All the words, sounds, signs, symbols, or objects that you use to communicate help build patterns in the brain to help make sense of life.
For many people the five steps, starting with respond and ending with talk, happen automatically during our interaction with others, but this is not the case for everyone.
When your child - whether they are an infant, child or emerging adult - enjoys these five simple activities every day it helps them to grow and be content in their own skin, to make and sustain friendships, and to have positive connections with their caregivers and other people in their family.
Have time to listen
Regularly ask your child how they're doing so they get used to talking about their feelings and know there's always someone to listen if they want it. Find out how to create a space where they will open up.
How to start a conversation with your child
This gives opportunities to both celebrate your child's achievements and support with any negative thoughts they may be having.
Set a good example
Setting a good example and being positive in what you say about yourself, your child, and other people. This can help you and your child's self-esteem build and build good mental health skills for the future.
Support them through difficulties
Pay attention to their emotions and behaviour, and try to help them work through difficulties. It's not always easy when faced with challenging behaviour, but try to help them understand what they're feeling and why.
Help with difficult behaviour and emotions
Show interest and be involved
Show interest in their life and the things important to them. It not only helps them value who they are but also makes it easier for you to spot problems and support them.
You can also build their confidence by noticing and commenting on positives you see in your child's personality, behaviour and achievements
Encourage their interests
Being active or creative, learning new things and being a part of a team help connect us with others and are important ways we can all help our mental health. Support and encourage them to explore their interests, whatever they are.
Take what they say seriously
Listening to and valuing what they say, without judging their feelings, in turn makes them feel valued. Consider how to help them process and work through their emotions in a more constructive way.
The Anna Freud Centre support guide
Build positive routines
We know it still may not be easy, but try to reintroduce structure around regular routines, healthy eating and exercise. A good night's sleep is also really important too.
Create positive relationships
Help your child spend time with friends and family of all ages – chatting with the elderly or very young – can help to build a picture of themselves as being helpful and good company to others.
Some people find big groups of friends hard, you can reassure your child it's ok to have one or two good friends.
Talk about the internet and social media
The internet is now so embedded in the lives of children and young people, it's important to have conversations about social media and the internet from a young age.
The NSPCC has some great guides on keeping children safe online.
Young Minds has advice on having conversations around social media and the internet.
Parenting or caring for a child or young person can be tough. It's important to make sure you look after your own mental wellbeing, as this will help you support yourself and those you care about.
Try to recognise and acknowledge when you're feeling low or overwhelmed. Struggling with something or experiencing your own mental health problems does not make you a bad parent or carer.
It's completely normal to be worried, scared or helpless during difficult times, and feeling this way is nothing to be ashamed of.
Is there a friend, fellow parent or carer you trust enough to tell how you're feeling? Maybe there's family, friends or a colleague who could support you or allow you a break?
There is lots of support available within Hillingdon if you need it. The best way to see an improvement in your mental health is to ask for help.
Find more mental health advice